Please note that the following offer is especially aimed at workers (e.g. people working on building sites). Other company employees (e.g. business travellers, trade fair visitors, etc.) please use the normal offers.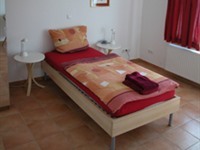 Beispielbild für 1 Monteur (EZ)
Firmen bieten wir für Ihre Baustellen-Mitarbeiter die gleichen Zimmer mit anderer Ausstattung an.


Keine Dekorationen, wie z.B. gemangelte Tischdecken, Sitzkissen, etc. sowie Bettwäsche und Handtücher aus eigenen Beständen (keine Hotelwäsche). Diese Wäsche wird Haus intern gewaschen und ist daher nicht glatt gemangelt (und evtl. auch mal an der einen oder anderen Stelle geflickt).


Für dieses reduzierte Angebot gibt es folgende Rabatte auf den Zimmer-Grundpreis (ohne andere Rabatte):
Neben der Nutzung der Zimmer, die alle DU/WC und ein TV-Gerät (teilw.mit DVD-Player) haben, ist im Preis die Nutzung der Parkplätze und des WLAN im Preis enthalten, sowie die Nutzung der Gemeinschaftsküche (inkl. Spülservice) und der Raucherterasse.
Wenn Sie Fragen haben, rufen Sie uns bitte an.